We are going to bring you a night to remember… After Guyutica, how could we not? Stay tuned for one of the biggest streamer collaborations ever!!
UPDATE: Spent post show last night with Joephus and taper420 and Nooch. A lot of discussions on the future of the streams, as well as integrating more programming about all the super cool stuff everyone in our community is doing. It is amazing all the creativity and expression that blossoms out of our collective phish experience, I am so inspired by the way everyone just keeps it real and comes together. I had a chance to chill with Isadora Bullock last night, she's does really sick phish prints. The best part was I didn't know it was her until after she left. Just super cool peeps. Check out some of her artwork HERE.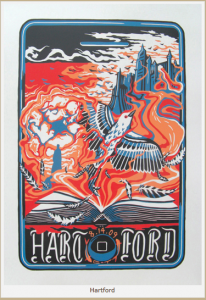 And for the really real, you gotta check this out! Taraleigh Weathers, a real life Phish reporter! My dream for phishtube has always been to file reports from the scene, telling people what's up and showing them how we do, and Taraleigh is a shining example of what I think a Phish correspondent should be. I am proud to know she is a voice for our community. Stay tuned, because I have my people talking to her people, and there are murmurs of a possible collaboration with phishtube.
This is real deal local news station in Burlington, Vt. Stay tuned…